AllNations Returnee Connection (Serving Overseas Japanese Returning Home).

All Nations Presbyterian Church Audio Sermons (Perth, AU)

Desiring God.org Rev, John Piper's Sermons (Minneapolis, MN)

Amazing Messages from Rev. D.H. Park, Jesus Center.com (LA, CA)

APPS @ the Common Core Flipped Sessions from MERLOT 2012!

Aussie & China Collaboration on E-Book Stories.

Australian Govt. Ministries and Offices. Australia Travel and Tours

AllNations Returnee Connection (Serving Overseas Japanese Returning Home).

Create fun animated presentations here!

ALIVE Pix: Converts pictures into create magical Shareable Videos!

AUTHORS R US: Digital Story-telling Programs

Academic Word List Vocabulary Exercises: EnglishVocabularyExercises.com/AWL

AnswerGarden - Plant a Question, Grow Answers!
AnswerGarden is a new minimalistic feedback tool. Use it for real time audience participation, online brainstorming and classroom feedback.

10 Killer Apps you should have!

AnswerGarden - Plant a Question, Grow Answers! Generate
AnswerGarden is a new minimalistic feedback tool. Use it for real time audience participation, online brainstorming and classroom feedback.

Ms. JJ Tei's Symbaloo Webmix URL

Art Links for Kids!

AssistNews.net

A collection of family-friendly kid-safe educational apps from the weekly App Friday Launch Center
Age-Appropriate materials for little learners. Here are some notable ones

Ed Shelf's collections of tools created by teachers for young children

App Friday Apps - Curated by children's media specialist Julie Brannon.

ACADEMIC RESEARCH ENGINES (100 of them to choose from!)

APRICOT
Apricot is a neat new free tool for teachers from Free Technology 4 Teachers. The way this works is educators sign up and create a class that students join through a code (i.e ClassDojo). Once the class is created educators can then ask a question, the students respond in real-time, and then their parents get the results emailed to them. Also, parents can join the same class as their child's w/ a unique login code.
For Kapuler's Pinterest board on Web 2.0 click here.

ANSWERABLES
Be sure to check out the latest updates!!!
Answerables is one of the most unique sites to come around in awhile. It is a cross between a Learning Management System and Game Based Learning environment to deliver a innovative and fun learning experience for students. All of this takes place in a 3D virtual world (i.e. think Second Life but geared towards education) that allows educators to create lessons, scavenger hunts, collaborate w/ other educators, and much more. Best of all, all of this takes place in Answerables safe interactive environment. Also, Answerables can be used by any curriculum to teach any subject using Project Based Learning, "gamifying"a lesson, and differentiating instruction.

Around the World with 80 Schools.net
VISIT 80 SCHOOLS Worldwide!

APACALL.org Newsletters list online free!

FLASHCARDS - ANIMAL ALPHABET
Animal Alphabet is an excellent free iOS app that uses augmented reality to help young students learn their alphabet. This app is highly engaging and brings dinosaurs/ animals to life in stunning 3D when view a AR Flashcard from an iOS device. Also, a student can hear the letter and name of animal when tapping on the animal. For Kapuler's Pinterest board on Augmented Reality click here.

Authors R Us
Curated by the digital learning specialists The Tech Chicks.

Storytelling Alice
A PC-based application that teaches students (particularly girls) programming through creating 3D animated movies.

AFA.Net Radio
American Family Radio AV Live streaming.

Best Private Beaches to Visit!

Teachers with Apps (Great selection for young kids!)

Alchemy SmartBinder
Alchemy SmartBinder is an excellent tool for educators to create engaging dynamic lessons for students. SmartBinder Flip is their free "plan" that allows teachers to create these interactive lessons (that contains all embedded/downloadable material) plus generate basic reports for assessing. Recently, they just released their premium suite which consists of: SmartBinder Collaborate, SmartBinder Teams, and SmartBinder Engage.

Alternative Power Sources
US Navy Game-Changer: Seawater Turned into Fuel
---
ART PROGRAMS:
Digital Canvas. Here are a set of tools for students of art, though any teacher striving to be creative may find these useful.

Art Prompts
Need a little ART inspiration? Like writing prompts, these art prompts can give the creative engine a kick start.

High School Art Apps
A collection of apps that can be used by high school students. Curated by art educator Kelly Little.

Creativity & Design Tools
A collection of web-based tools & apps for creativity and design. Curated by Dr. Annette Kratcoski.

Drawp
A professionally-designed yet simple drawing app for kids. Allows artwork to be shared within a parent-approved network.

Figure
Digital art doesn't only have to be visual. It can include audio as well, something this simple music maker can offer.

MoMA Art Lab
From the Museum of Modern Art, this free app includes hands-on activities like making collages, drawings, paintings, etc.
---

My favorite apps to use in art
Art teacher Lynn Horne's favorite apps to use when teaching and working with students in art. Tools to help educators and students make stuff - for the inventors, creators, builders, writers, and artists out there.
---

Drawp for School
Drawp for School is an excellent free iPad app for creating digital art. This app has an easy to use interface that allows students draw, paint, color, etc to creating stunning pieces of art. Best of all is the educational portal that allows educators to create/manage student accounts as well as the ability for students to "hand-in" assignments via the cloud. This is a fantastic app to use for any subject or curriculum.
[From Dave Kapuler].
---

The Art of Storytelling
Here is a site from the Delaware Art Museum that allows you pick a painting (they don't use photos, but the site is so good I decided to include it in this list anyway), write a short story about it, record it with your computer microphone, and email the URL address for posting on a student website or blog. It's extraordinarily simple, and extraordinarily accessible to any level of English Language Learner. No registration is required.

Angle Asteroids
Angle Asteroids is a wonderful free iOS app that helps students learn how to measure angles. This is a fun app that any Math/Geometry teacher can use that has students try to blast incoming asteroids by aligning it to the correct angle from their spaceship. Also, being a part of Sylvan's education series allows for parents/educators to track student progress.

Rr. Alaa Sadik

ResearchGate

Agnitus
This little app includes 46+ Common Core-aligned games ranging from language arts to math skills. Offers summative assessments too.

The Answer Pad
The Answer Pad is one of my favorite all-in-one mobile learning solutions for a classroom. Not only does it allow a teacher to become paperless by doing all testing/assessing on a iPad (or mobile device), it can turn a iPad into a student response clicker system. A educator can use Answer Pad in a number of different ways and push out assignments that they can grade and assess in real-time, which allows them to differentiate instruction, guide instruction, and even flip their classroom.

American History Timeline
American History Timeline is a wonderful free iPad app that focuses on American History from 1770 to Current Events. This interactive has 100s of images and tons of information that can be sorted through. Best of all their are educational games such as Scramble and Matching to help reinforce learning.

Answerables
Answerables is a wonderful new innovative site/game that is perfect for Game- Based Learning (or more accurate Game Based Learning meets Learning Management System). It reminds me of Second Life but geared more toward kids w/ their fantasy/SciFi environment. The game takes place in the 3D virtual world of Answerables on a planet called Proxima, where the native Ansibles (students) encounter an alien race. What makes this so great for education that is the safe/COPPA compliant environment that Answerables provides. This is an ideal place for students to collaborate w/ others to develop their social learning skills. Answerables provides windows (i.e. Second Life) to view the web, go on quests, etc. The student dashboard allows students to track their quests, notifications, events, PODS (Personal Online Development Spaces), and more.

Apollo
Enhance your slide decks with audio and animated drawings. Then host live questions and manage the back channel of your presentations.

Van Gogh's "Starry Night" Like You've Never Seen It Before

Best Collections of "The Best" Pieces of Art Ever Created
The above link are my choices for The Best Collections of "The Best" Pieces Of Art Ever Created.

Art works of Janice Huse.

PENOLO
Penolo is a very cool site from, The Educational Technology Guy! This is a great site for sketching a unique image from scratch or uploading an image (or online via URL) and drawing over it (think Skitch). These images then can be shared via Twitter w/ a click of a button.

ARTSONIA
Artsonia is a great free site for art teachers allowing students to upload their art work to an online gallery. There is also a teacher section which has lesson plans for grades PreK-12th.

Easily Create Animations With "Disapainted"
Disapainted may be just about the easiest tool out there to make simple "stickman" animations. Registration takes less than twenty seconds, and you are given a link to your creation. ELL's can make an animation and then share - in writing and/or verbally - a story about it. More at The Best Ways For Students To Create Online Animations.

Art Apps Free!

iWriteWords

ARCADEMIC SKILL BUILDERS
Academic Skill Builders is a wonderful site for educational games. This site is designed to help students learn by playing multiple player games. The games covers various aspects of math and language arts. Also, there is a teacher portal which allows for student tracking and customizing games. For Kapuler's top 10 sites for educational games click here!

Amazing Bird Formations
Watch this video and others at The Best Sites For Learning About Animals. At forty-five seconds into the video it really gets amazing!

FLAME PAINTER
Flame Painter is a fun site for creating digital art. All a user does is move the cursor around the screen and watch it paint. However, a person can control the color, saturation, and opacity. There is a Mac/Windows app available as well. For Kapuler's top 10 sites for digital art click here.

DrawaStickman.com
Quick and easy stick-figure drawing online

Cool Animated History Of Aviation

PanApp.com
Wordplay With a Twist- Find the highest scoring words from nine letters in this classic word game.
A unique scoring system dynamically attributes letter values based on their frequency per game! See more at http://www.panapp.com/words-deluxe/#sthash.fjCngaqK.dpuf

Art Glossary with Audio Support
Harcourt has an excellent Multimedia Art Glossary that provides Audio support for the text in addition to visual images. See other such programs at The Best Art Websites For Learning English, as well as under Music and Art.

Drips
Drips let you paint like Jackson Pollock, and you can save it online. And you don't have to register for it. Even cooler, it gives you a choice of painting it with either your mouse or your webcam and computer microphone. With your webcam, you can use your cellphone light or something else as a brush and your voice to change the color. After you save it, you're given its url address. Students can post it on a student/teacher blog or website and describe it, as well as comment on others made by their classmates.

Apps.MyStart.com

Audacity
Audacity is free, open source, cross-platform software for recording and editing sounds.

Godreport Blog - Alaska Pilot
Alaska Atheist Pilot has a few brushes with death that lead him to newness of life

Free Clip Art by Phillip Martin
Seems to be a pretty impressive site for clip art that's free for non-profit use. The art seems a cut above many other clip art sites, and appropriate for many subject areas (that's how they are categorized). See also The Best Online Sources For Images.

Teach English in Asia.net

American StoryCorps: Recording America's Oral History : NPR

The Best Collections Of "The Best" Pieces Of Art Ever Created
In Ferlazzo's Theory of Knowledge class learn about the roles of emotion, language, perception and reason in art. As part of that, students are looking through pieces of art and writing a short analysis of one they choose. They are going to look through the online collections of various museums, but also a site that shared one person's view of "The Best" pieces of art ever created. This is a similar list of sites that provide images of famous pieces of art. It's an intriguing way to help English Language Learners develop a great vocabulary related to feelings and emotions, plus it creates opportunities for both art vocabulary and art content knowledge. Each site shows a number of images or links on the same page of their selected artworks, and allows the ability to click on them to get an enlarged view. Among The Best Collections of gThe Besth Pieces Of Art Ever Created are these: The Greatest Works of Art; Another site titled The Greatest Works of Art; Best Works of Art in the World; Famous Paintings; The World's 50 Best Works of Art (and how to see them); 50 Most Famous Works posters (this is from a site that sells posters, but does provides nice images of famous pieces of art).

AllSharing.Ning.com: CALL Sharing Blog.
---

Adaptive Curriculum Tools (Free)
A collection of free tools Curated by Michael Wacker for the Denver Public Schools Blended Learning Program. Enjoy these great tools for educators!

Augmented Reality for Education
Mobile Augmented Reality Technology for mobile devices such as iPhone/iPad, Android SmartPhones, Samsung Wave/bada OS.

Problem-Attic
Search through 90,000 questions from New York Regents, State Assessments, and other sources, then add them to your worksheets.

Amazon Prime Air
The technology and the politics do not favor Amazon Prime Air, the company's futuristic delivery service that uses drones

Do Ink Animation & Drawing
How about drawing your own animated cartoons? With this iPad app, you can!

Faces iMake ABC
Faces iMake ABC is a wonderful iPad app by iMagine Machine for PreK-KDG/toddlers wanting to learn their letters/alphabet. There are lots of apps that do this but what makes Faces so great is how interactive it is for kids. A user has two choices either to learn the letters or find a letter. The learning part has a kid tap a letter, here it pronounced, and then try to put together a picture associated w/ that letter. The find a letter is a great way for kids to associate words w/ a letter such as D for Dog. [Written by dkapuler on Oct 01, 2013].

Little America English Game Products (Based in Fukuoka, JAPAN).

ACTION Verbs (Poster and Video Demo on how to use when teaching kids!)

Animoby Presentation Tool for I-Pads

America's Blessings (Where do they all come from and why? By Rodney Stark)

Apple and Education
Apple has redesigned their education webpage as they revitalize their push towards education. It's a great site where educators can find examples of how teachers are using Apple products in their classroom (ie, lesson, guides, etc.) Also, this is a nice place for Special Ed as well as IT folk who need to deploy Mac/iPad, Active Directory, etc.

I Can Alphabetics
With the help of leading dyslexia researchers, this iOS app helps young children learn the shapes & sounds of the alphabet.

DragonBox Algebra 12+
Created by a high school teacher, this educational iOS game covers algebra for students 12 and over.

Wuzzit Trouble
Teachers, as well as game designers, are also behind this iOS game of mathematical conceptual thinking skills for 5-14 year olds.
---

The Apple Cart

CreationAstronomy.com

Apps Gone Free!
Filters out the junk to give you only best Apps for E-Learning!

Anki SRS.Net
Create friendly and memorable E-Flashcards to help you remember anything!

Alexa.com
Analysis of Website Users' Data

APPLE Events: WWDC 2013

Ankisrs.net

Lexical Access (Defined and Visualized)

Inanimate ALICE.com

AWL Key Vocab.com - practice site for Academic Word List (with Japanese Tips)

5 Vocabulary Principles
Why you should learn the words from the Academic Word List first before you start learning less common academic words. You will need these words for context when you learn less common words. See the video for more information.

American English.State.Gov
US Government-sponsored English learning site. All free resources!

AROUND THE WORLD FAMILY CURRICULUM: Around the World in 60 Days
Source: Thriving Family Magazine: Around the World in 60 Days can take you and your family on a virtual journey. Exploring 27 countries on six continents. Free downloadable materials (designed to be used over a period of 60 days) include a world map, itinerary, and passport with stamps that you can glue into it as you "visit" each country, as well as Bible lessons and cultural activities. For example, you who are parents might appreciate an activity in the section about Latin America which explains, "In Colombia, older members of the family are greatly respected for their wisdom. They are always served first at mealtimes. At your next meal, serve the people at the table in order from oldest to youngest. Leviticus 19:32." Registration is required to access downloads. And if you like what you see, you might be interested in subscribing to their marriage and parenting magazine (also free). Learn more or sign up for Around the World in 60 Days. And thanks to Stand4Kids for the heads-up.

Awesome Stories:Awe-inspiring collection of Mini-Stories?
While researching and writing the major Stories, we sometimes come across miniStories- important in their own right. So we create a special page for each. A miniStory will show up in the related major story, but can now be directly accessed on its own. Find a sampling of MiniStories below. You can also find these on the website on the TEACHERS page, or go direct to the MiniStories page.

NatCorp.ox has a Simple National Corpus of the BNC or British National Corpus

THE ANSWER PAD
The Answer Pad is a free service for teachers that allows teachers to create electronic answer sheet for any test they create on any subject online. Students then take these tests via a free app on the iPad, TAPit. Teachers can access their scores, reports, and more all online.

ANSWER PAD'S Go Interactive Video

AlphaTots
AlphaTots is one of my favorite iOS apps I've come across for learning about the alphabet. Having a 3 yr old in Preschool and a 2 yr old daughter this is an app that is going to get quite of bit of use in our household. What makes AT so great is that it is highly interactive and lets students tap on the screen to complete different tasks involving the letter. [Written by dkapuler on Mar 16, 2013].

Acapela.tv
Acapela.tv is a really fun site for kids that I just found out about from the award winning and innovative educator, Ozge Karaoglu. This site allows student or teachers to create a animated video/cartoon using different scenes. All a user has to do is type in their text (up to 200 characters) and watch as the scenes says it for you. Best of all a finished video can be embedded into a site/blog which is ideal for educators. [Written by dkapuler on Mar 18, 2013].

Appolearning
Appolearning is a great site for finding educational apps. These reviews are done by experts in the educational field and are scored on a scale of a 100%. Also, these reviews contain a number of screenshots and detailed report card that covers: Educational Content, Kids Appeal, Assessment, Features and Design, Value, and Safety and Privacy. [Written by dkapuler on Apr 16, 2013].

Fun Educational Apps
Fun Educational Apps is an excellent site for finding detailed reviews on educational apps. These apps are rated on a 5 star scale and include photos. Best of all, these reviews breakdown the app into 3 categories such as: what I liked, suggestions, and general opinion. [Written by dkapuler on Apr 12, 2013].

ANNOTATION Programs: Top 10 for Bookmarking and Annotating Websites (Kapuler's Best!)

APPS Organizer: GetFilesApp.com
This app is designed for both iPhone and iPad

ARTISTS' MotionArtist.Ssmithmicro.com: makes interactive comics online!

ALT: UK Association for Learning Technology Conferences

Audio Bible in Japanese

Ankerberg.com - The Historical Reliability of Scripture

ARK of the Covenant - What does it mean? and Has it been found?

ARTIST CORNER
Artist Corner is a wonderful free iPad app for creating digital art. This is a very easy to use app that allows kids to create digital art through a use of a wide variety of activities such as: drawing, coloring, painting, and creating a mask. After an activity is selected a user has the ability to choose from a wide range drawing/painting tools such as: colors, markers, paint brushes, etc etc. ÊWhen a work of art is completed it can then be saved in the "my gallery" folder and "shared" online w/ others. [Written by dkapuler on Feb 19, 2013].

Ark of the Covenant Found Explained

Ark of the Covenant Found: Shorter 50' Version.

AgendaDocumentary.com
American Freedoms Being Ground Down?

"Age of Deceit" about Aliens and Extra-Terrestrials

Ark of the Covenant Found?

Best of 2012 from Larry Ferlazzo's EduBlogs!

Mind Leap
Mind Leap is a great site dedicated to finding/reviewing educational apps for kids grades PK-Middle School. Not only can you search for apps by grade level, but you can search though subjects as well. Each app is reviewed and rated on a 5 star scale and is linked for download.

AMARA Universal Subtitles
Universal Subtitles (or Amara) is a free online tool that allows you to subtitle exiting video sources (you can enter the URL of an Ogg, WebM, flv, mp4, Youtube, Vimeo or Dailymotion video) in many different languages. If you have ever tried to construct an .srt file from hand, you know how difficult and time-consuming it can be. Amara aims to be the easiest way to caption and translate any video. Subtitles make videos more powerful, more global, and more searchable.

APPS IN EDUCATION
Apps in Education is a new (beta) site for finding educational apps. This is a great site that has excellent written reviews as well as video reviews too. Plus, reviews come w/ complete breakdown, screen shots, price, and links to the app. Also, APE has a nice blog too. For Kapuler's top 10 sites for finding educational apps, click here.

Abortion: TooManyAborted.com

Azusa Pacific University
ALCI is APU's American Language and Culture Institute, located in lovely Southern California! ESL instruction and Cross-Cultural Training.

ALT: Association for Learning Technology
ALT is the UK's leading membership organisation in the learning technology field.

A Searchable Repository

Amazing Life Transformations!

With Closed Captioning to assist language learners

Listen Now to the Streaming Bible | Faith Comes By Hearing
Now you can listen to the Audio New Testament in over 500 languages on your PC! Click to hear samples (1 minute clips) of the New Testament in over 500 languages.

Arabia E-Learning PowerPoint on Comparing Glossing Engines (by JP Loucky)

Appollo 11 Moon Landing of Neil Armstrong

AIRTIME
Airtime is a site that has been quite a bit of buzz this week on the internet. It reminds me very much of Google+ Hangout's and is a great way to "live" video chat. All a person needs to use Airtime is a FB account and then can start chatting w/ people over the web. Both people participate in the chat and can share live experiences such as watching the same YouTube video, etc. A unique feature is the ability to search for people based on similar interest and then start video chatting right away. There is some definite education potential if done in a secure way. [Written by dkapuler]

AIRY LABS
Airy Labs is a company dedicated to making educational social learning games for kids. These games can be web based as well as for mobile/tablet devices. I recommend checking out their wide variety of games as well as there are community and freebies as well.

POWERPOINT PALOOZA
PPT Palooza is a site I just found out about from David Andrade's excellent blog. This is a great site for 100's of free Powerpoints on American and European history. This is a great resource for
History/SS teachers. [Written by dkapuler]

APPRENTUS
I just wanted to give a quick shout out to this new (beta) site for finding online teachers. Sign up and be invited to try out this new online community for finding teachers on any number of subjects. For Kapuler's top 10 sites for online tutoring and teaching click here.

Azusa Pacific University
ULCI is APU's American Language and Culture Institute, located in lovely Southern California! ESL instruction and Cross-Cultural Training.

ALT: Association for Learning Technology
ALT is the UK's leading membership organisation in the learning technology field.

Searchable Repository

Amazing Life Transformations!

Amazing Life Transformations with Closed Captioning to assist language learners.

Listen Now to the Streaming Bible | Faith Comes By Hearing
Now you can listen to the Audio New Testament in over 500 languages on
your PC! Click to hear samples (1 minute clips) of the New Testament in
over 500 languages.

Annual Review 2011
Year in Review: Best Pictures of 2011

Arrigatou from Japanese Tsunami Victims

"Awesome Stories" Gets More Awesome
Awesome Stories is on several of "The Best" lists - it has extremely accessible articles and multimedia on just about every topic imaginable. And it just got even betterÉ They've begun adding a "Visual Vocabulary Builder" to many of their stories to help with comprehension. Here's an example of one to support their story on the "back story" of The War Horse, the new Steven Spielberg movie. Add Awesome Stories to The Best Beginner, Intermediate & Advanced English Language Learner Sites.

Education Atlas
Education Atlas is a one stop shop for all things educational. This is a great place for lesson plans, finding online degrees, and more. A great feature is the ability to search by all grade levels (primary, middle, college), etc. For Kapuler's top 10 sites for educational resources click here.

Activating Online Reading for Maximum Comprehension and Retention

FUN EDUCATIONAL AND KID-FRIENDLY APPS

Fun Educational Apps
is a site that is self explanatory. It is a great site for finding apps for the iPhone, iPod, and iPad. All apps can be browsed by age level or subject. Also, there are nice detailed reviews w/ screen shots to help users find what best meets their needs.

APPADVICE - FREE APPS
AppAdvice is a excellent site tahat I just found out about today through Twitter (I love my PLN!!). This is a site dedicated to all mobile apps for Apple. A person will find reviews, news, guides, and more on here. Best of all I was able to find a list of free apps for today only they I think are worth mention. There is a wonderful Red Riding Hood interactive story app for kids. I downloaded this for my boys and they are loving it. They can either have the story read to them or read along w/ it while interacting w/ the book. Also, there is a nifty little note taking app (MetaNotebook) which is worth a look for taking notes and then sharing w/ others or printing.

AUDIOLITERATE
AudioLiterate is a great site for streaming or downloading free Audiobooks. A user can search for books by author genre or price. I recommend checking out Audible for another great site for downloading audiobooks.

Audible
Audible is a wonderful site for finding/downloading 1000's of digital Audiobooks. This site is powered by Amazon and works on most mobile devices. Not only does this site offer books, but other types of media as well such as: speeches, radio shows, podcasts,etc.

FAMIGO
Famigo is a wonderful site for finding safe kid-friendly apps for Apple and Android. The apps are reviewed on a 5-star scale and can be searched for by age-level, category, etc. For KapulerÕs top 10 sites for finding educational apps click here.

ANDROID MARKET
Android Market is a great place to find educational apps for Android devices. While I don't have any experience w/ them myself, I do know that there is a place for them in the educational institution. This site has lots of screen shots and reviews of educational apps and can be browsed by most popular and free.
For a great blog on Android devices and apps I highly suggest checking out Richard Byrne's, Android 4 Schools.

ANIMOTO APP
Animoto has just released a free app for iOS devices (iPhone, iPad, etc.). This is a very useful app that lets users do what they normally could w/ the Animoto site such as: adding/uploading photos, choosing music, and finally adding text.

APPS IN EDUCATION
Apps in Education is a wonderful site/blog developed by Gregory Swanson. This is a site dedicated to finding and reviewing educational apps in a number of different categories such as: Science, English, Art, Math, etc. Also, there are some nice tips for using the iPad in the classroom.

ALIEN BUDDIES
Alien Buddies is a nice inexpensive app ($1.99) for the iPad/iPhone. This app has lots to like for PreK-1 aged students. It helps teach numbers, letters, and shapes through a variety of games. The games include: matching, puzzles, connecting dot to dot, and stickers.

ANMISH
AnMish is new (beta) site from Cliotech and is great for digital storytelling. Not only is this site super fun and easy to use but it allows users to select characters and then record their own voice to add to them. A person can then embed videos to share w/ others. This site does have cartoon celebrities, puppets, and more to choose from, while not ideal for education, it can be used by a teacher or w/ proper supervision.

AMYLOVESYA
AmyLovesYA is a new blog dedicated to young adult literature. This is a great place to find reviews, collaborate on books, and so on. It's written by an English teacher who is going for her MLIS (Master of Library and Information Specialist).

Amazon.com's free Cloud Drive online storage

ABC Mouses.com
Great site for parents to use with young children still at home, or in Pre-K or Kindergarten!

BEST KIDS APPS
Best Kids Apps is a wonderful place to find educational apps for kids. These apps are arranged by age level and category. A nice feature is how every app is rated on a A-F grading scale. Also, there are beneficial reviews to read w/ screen shots as well.

Appitic
APPitic: a directory of apps for education by Apple Distinguished Educators (ADEs) to help you transform teaching and learning. It has over 1,300 categorized apps, including a ton organized by Bloom's Taxonomy.

APPS SEARCH ENGINE NAMED 'QUIXEY'
Quixey is a wonderful new (beta) site search engine for apps. What makes this so nice is the result page that shows so much useful information such as: cost, review, rating, platform, etc.

MOMS WITH APPS
Moms w/ Apps is a wonderful site for finding educational apps for families and kids. This site is primarily made up of parents who have developed kid friendly apps. For Kapuler's 10 sites for finding educational apps click here.

ALT-C 2011 playlist on the ALT YouTube Channel
Association for Learning Technology (U.K.'s ALT)

ATLAS App from National Geographic

ABCYA
ABCya is an excellent site educational games for grade K-6. These games cover all subject areas and even offer educational apps for mobile devices.

Adding TTS to Any Blog

Abby Online Reader (Convert any text to OCR).

Adolescent Literacy.org

Asia's Youngest Self-Made Billionaire: Wanna Be Next?

AUDIBLE
Audible is a wonderful site for finding/downloading 1000's of digital Audiobooks. This site is powered by Amazon and works on most mobile devices. Not only does this site offer books, but other types of media as well such as: speeches, radio shows, podcasts, etc.

ABeka ESL.org: 3 Free Trials at 3 Levels!

Animaps
Animaps is an innovative site for creating animated maps in Google Maps. This is done by creating a map and then adding markers (similar to custom animation in PP), text, and shapes that are all set to specific timings. I highly recommend checking out Animaps by clicking here!! For a more detailed review check out Free Technology 4 Teachers. For other cool mapping sites check out Time Maps or Wikihood.

TOP 50 IT APPS: Written by dkapuler
Being a huge advocate of lists, I was pleasantly surprised when I received an email from a writer for Information for Technology Degrees. He passed a long a post he did for top 50 free IT apps. After looking at the list I was happy to see some that I have experience w/ in the past: Cacoo, Cacti, Nagios, Flow, etc.

Annotating Webpages
Best Applications For Annotating Websites.

Animation or Comics Creation Programs

Chogger Looks Like A Nice Comic-Creation Tool
Chogger lets you easily create a comic, with no registration required. What's particularly nice about it is that you have a choice of drawing it or searching the Web for images you can insert. More at The Best Ways To Make Comic Strips Online.

Jennifer Stern and Joyce Kasman Valenza, just published their own list of comic-creators.

Creating Online Content Easily
The Best Ways For English Language Learners To Create Online Content Easily & Quickly
The Best Ways For Advanced ELL's & Non-ELL's To Create Online Content Easily & Quickly (For Their Classmates & Teacher To See)

A is for Aims in Language Teaching

Audio New Testaments
Offer free download of 400 language versions of Audio New Testaments, now translated into the Mother Tongue of over 82% of the world's population!

Accessible News in Easy English
This is sort of a version of BBC News designed for younger people. The lay-out, writing, and choice of stories is very inviting.
Applied Linguistics: Major areas and associations
What is Applied Linguistics?
The name "applied linguistics" is known world-wide to denote analytic and empirical linguistic approaches for investigating topics related to second language acquisition and language use. Applied linguistics can denote the linguistic study of a wide range of language-in-use phenomena. The name applied linguistics is used to denote professional organizations such as the American Association of Applied Linguistics and the International Association of Applied Linguistics, a national research center and information clearinghouse called the Center for Applied Linguistics, and journals focusing on issues of second language acquisition and language use such as Applied Linguistics, Issues in Applied Linguistics, and International Review of Applied Linguistics.

Apple Surpasses Microsoft as Most Valuable Technology Company
Apple, the maker of iPods, iPhones and iPads, overtook Microsoft, the computer software giant, on Wednesday to become the world's most valuable technology company, in one of the most stunning turnarounds in business history, as Apple had been given up for dead only a decade earlier. But the rapidly rising value attached to Apple by investors also heralds a cultural shift: Consumer tastes have overtaken the needs of business as the leading force shaping technology.

XtraNormal.com
Animation Movies Online: Make them free easily here!

Animoto for Education Digital Projects
Animoto is a dynamic video creator which takes still pictures and video clips and make professional quality videos. You can use it as a project based learning tool in much the same manner as Photo Story or Pixie.
Animoto for Education - Animoto allows teachers to have full access to their features which would otherwise cost money. Registering for Animoto as a teacher also gives you a link to register student accounts.

AnalogX.com
Great screen capture program.

Audio-Supported ESL Short Stories: 365 Extensive Readings with full Dictionary and Listening Support! Listening and Reading Free Site for Intermediate ESL Learners and For Beginners
Easy Conversations, Super Easy Reading, Easy Reading; Sentence Structure Writing Practice with 2,000+ ESL/EFL Conversations on Different Topics.

AT&T Knowledge Network Explorer

American History Through Music: Voices Across Time.org
Voices Across Time was created to help teachers harness the power of song as primary source to supplement any secondary American Social Studies, Language Arts, and Music curriculum. The project has three components (use the buttons at the top of this page to find out more about each): a Teacherfs Guide, the Summer Institute for Teachers, and Lesson Plans and other Teaching Resources. Also found at this site is an index of Timely Tunes; songs appropriate to enhance discussion of any major holiday or historical anniversary. Songs have a special power to express what words alone cannot: hopes, fears, dreams, love, hate, anger, pride, aspirations, and disappointments. Because songs span the breadth of human experience, they are uniquely able to communicate across time and space the beliefs and ideas held by their composers, performers and listeners. Yet textbooks are silent.

Art Collection: Methodist Collection of Modern Art

A Way with Words: Public Radiofs Lively Language Show
Increase your linguistic understanding: What's a "snollygoster"? Where do you see "snard'? Find out on A Way with Words, public radio's zippy, peppy show about language and how we use it! A Way with Words is sponsored, in part, by Mozy.

librivox.org
Audiobooks and stories in the Public Domain

Cool American English
The best place on the internet to learn American English. All videos have subtitles and vocabulary to help you learn real American English.

ASSOCIATIONS OF LANGUAGE TEACHERS AND RESEARCHERS ACTFL.org
American Council on the Teaching of Foreign Languages, the only national organization dedicated to the improvement and expansion of the teaching and learning of all languages at all levels of instruction throughout the U.S. ACTFL and its affiliated organizations represent the educators who are committed to building language proficiency from kindergarten students through adult learners.

Asian-EFL-Journal.com

Asia News

Adjectives Study (Dr. JP Loucky)
CREATIVE VOCABULARY STORY for Learning Adjectives and Verbs

All My Favorites: Educational Sites
AllMyFaves is a colorful page that presents the user with the editors' picks for the top sites for educators. Be prepared to explore for hours!
Adventures

"Threaded Adventures"
Kevin Hodgson has created a brilliant website where he not shows how he teaches students to write "choose your own adventure" stories (which he calls "Threaded Adventures") and provides examples of stories they have written in a "choose your own adventure" form! Find many more at The Best Places To Read & Write "Choose Your Own Adventure" Stories.

Read Wikipedia's History of Choose Your Own Adventure Stories here.

Choose Your Own Adventure Stories
Here are two new additions to The Best Places To Read & Write "Choose Your Own Adventure: Stories: Man vs. The Wild is another game from the Discovery Network.
Connect With Haji Kamal is an intriguing game developed for the U.S. Army to help soldiers develop better skills at communicating across cultures.

Africa in Perspective
It very vividly compares the size of Africa with the size of a number of other areas on the earth.

Animal Sounds: What's That Noise?
What's That Noise? is a "talking book" from the British Council. It also provides opportunities for vocabulary development specifically about the names of animals. It's accessible to Beginning English Language Learners. Find more under Animals.

Video: "Bow Wow Meow - Animal Sounds in Different Languages"

Our Amazing Planet: Top To Bottom
Excellent Infographics are very accessible to English Language Learners.

Asia Rooms.com: Accomodations and Sightseeing in Japan and other parts of Asia

English Raven: World Adventure Kids!: the beginnings
World Adventure Kids!

Twine
Twine is a Windows freeware program for writing "choose your own adventure program" stories. Like using sticky notes, it automatically links each choice together and lets you know if there are problems. You can also add graphics and there are excellent video tutorials.
---
AUDIO RECORDING BY PHONE FOR SPEAKING PRACTICE

Best Sites For Students To Record Audio By Phone
There are a number of excellent sites that English Language Learners can use to practice their English, and you can find many of them at The Best Sites To Practice Speaking English. Some apps, like Google Voice, allow people to record audio by phone, but require some work by the teacher to post the audio on the web. This list of free applications allows students to use a phone to record audio directly to the web - without any intermediary. So teachers can just listen and leave comments, but do not have to post it. This serves as an "Audio Journal" for students.
The Best Sites For Students To Record Audio By Phone so far are:

Snapvine
Snapvine is basically an Audio Blog. www.Utterli.com/all looks like a "micro-blog" with audio.
ipadio.com looks similar.
---

Rooh It! is great for Notetaking Online or Webpage Annotation!
All you have to do is put http://go.rooh.it before any web URL address and you can start highlighting and leaving notes about it. No registration needed for it. See more such Annotation Tools at The Best Applications For Annotating Websites. Make Use of blog has written a good post describes it.

Awesome Highlighter
Awesome Highlighter could be a perfect annotation tool for students Etype in a webpage, highlight key phrases, type out and position some virtual post-it notes, click on save, and then post the url address of your work on a class blog or website. Easily lets you annotate web pages - see Best Applications for Annotating Websites list.

Best Applications for Annotating Websites

A-Z Directory of ~3,000 Online Learning Tools!
Choosing tools is a daunting task. No actually, it's completely overwhelming! Did you know that there are over 3,000 collaboration tools online right now? And new ones are showing up almost every day! For example, check out this awesome tools list we found that's being managed by a UK research institute. Everything you'll ever need to become an online collaboration tools guru is here, with many of the tools being free. But we are only interested in a tool if it fits certain human behavior patterns for getting together and collaborating. We are more interested in its ability to support 'interactionEthan to manage 'informationE(although that's important too). So, we have some principles that we abide by when choosing tools. This helps us (and you!) to narrow down the rapidly growing conglomerate of online tools.

TESOL Academic.org: Aims to help link theory and practice
---
X=EXCELLENT ONLINE MEDIA PROGRAMS FOR LANGUAGE LEARNING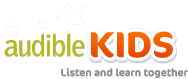 Audible Kids
Published by ILearnTechnology admin under Fun & Games, Interactive book, Language Arts, Primary Elementary, Secondary Elementary, Teacher Resources, Web2.0, Websites, iPod.

The Tale of Despereaux Adventure
Make your own Digital Adventure Online Storybook!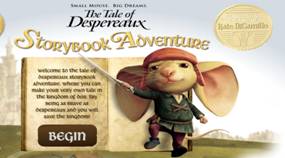 This interactive story book lets students create their own tale in the Kingdom of Dor. The students become a part of the story as they create a character version of themselves that takes part in the story adventure. Students can choose to have interactive games and puzzles included in their story. The story is a virtual pop-up book read to students who can read along with subtitles. Along the way, students have to help solve problems in the story by playing an interactive game.


My own version: The Tale of JP Lucky's Adventure
---
AUDIO BOOK COLLECTIONS

Lit2Go

Lit2Go is a free online collection of stories and poems in Mp3 (audiobook) format. You can:
EDownload the files to your Mp3 player and listen on the go,
EListen to the Mp3 files on your computer,
EView the text on a webpage and read along as you listen,
EPrint out the stories and poems to make your own book.
1. Browse by Author. You can pick your stories by the author's last name.
2. Browse by Title. You can pick your stories by title.
3. Search Database. You can search the collection by title, author, keywords or reading level.
An abstract, citation, playing time, and word count are given for each of the passages. Many of the passages also have a related reading strategy identified. Each reading passage can also be downloaded as a PDF and printed for use as a read-along or as supplemental reading material.
4. Launch iTunes. If you have iTunes software installed on your computer, you can download many of the selections directly into your iTunes library. The free iTunes application for either Macintosh or Windows computers may be downloaded directly from Apple, Inc

Free Classic Audio Books
with MP4/Mp4 downloadable sound.

Repeat After us
Repeat After us is a great free, online library and language lab!
RepeatAfterUs is an award-winning online library with the best collection of copyright-free English texts and scripted recordings. Our free audio clips provide an excellent resource for students and literature lovers of all ages. Close to 10,000 texts and 2,500 recordings, all are organized by Author's Name and graded as either "Beginning, Intermediate or Advanced.E

Story Online

200 Classic Audio Books on 1 DVD
(Human narrators not text to speech / MP3 Audio Format)
Only $9.95 for over 250 hours of narrated Classics! Free Shipping!
This collection of classic Audio Books comes on a DVD data disc. You can listen to the files directly from the disc on your PC or transfer them to your hard drive or portable mp3 player. No Digital Rights Management. You can copy these files, burn them to audio CD, load them on different mp3 players, etc. There are individual mp3 files for each book chapter.

Simply Audio Books
(fee-based, but some free monthly downloads)

Audible.com
(fee-based)

Accessible Book Collection.org
Book Collection Descriptions (with TTS for visually impaired)

Accessible Book Collection
Accessible Book Collection.org's Assistive Technology Training Online Website Resources: talking word processors; text and screen readers; screen magnification; readers for e-books;and sources for reading material.

Awesome Stories
Awesome Storieshas an incredibly impressive collection of materials Eon just about any topic imaginable Ethat are very accessible to English Language Learners. Over past few months they've even added audio support to much of their text resources, hundreds of resources hosted by the site itself, slideshows, a much better internal search engine, and a bunch of other features. You do have to register on behalf of an entire school, or on an individual basis to use the site, but it's free and easy to do so.

Animator
Make up Animated Cartoon Movies for free here!

America's Library: Discovery Stories of Amazing Americans

Ask Vox: Audio Search Engine
Ask Vox is a Talking Search Engine with a talking host. In addition to functioning as a typical search engine, you can also type in a question and the avatar will "speakEthe answer and also show it in text form. It also allows you to send talking email messages. It's great whenever English Language Learners can type or see text along with hearing it pronounced, so it is particularly useful to English Language Learners.

Athletes: Inspirational AthletesEStories
---

Archive.org
1,400 Vocabulary Links

Arlyn Freed's ESL/EFL ESP
(English for Academic or Specific Purposes)
TONS of great links!
---
ANNOTATION PROGRAMS FOR WEBSITES

Top Ten Annotation Tools

NowComment
Turn any document into a class discussion with a commenting system that appears right next to the text. NowComment makes it easy to have rich, engaging discussions of online documents no matter how large (or small) your class or collaboration group. NowComment is fast, powerful, and feature-rich: you can sort comments, skim summaries, create assignments, hide comments, reply privately, and much more. It's free, a project of public interest group Fairness.com LLC. Take 60 seconds to get an account now!

AirWeb
If you have an Apple TV in your classroom, this iOS app lets you turn it into a gigantic yet readable web browser.

The Amazing Digestive Journey
The Amazing Digestive Journey is a nice iOS app for Health/Science teachers wanting to introduce the concept of digestion to students. This is interactive app lets students complete activities that start in the mouth while they try to help cure a patient of their ailments. This app focuses on the different aspects of digestion through organs such as: esophagus, stomach, liver etc as well as different enzymes.

TrackStar
Collect websites, enter them into TrackStar, add annotations for your students, and you have an interactive, online lesson called a Track. Create your own Track or use one of the hundreds of thousands already made by other educators. Search the database by subject, grade, or theme and standard for a quick and easy activity.

Simply Box
Simply Box is a great tool for research on the web, basically a bookmarking program. The key difference, however, between Simply Box and everything else out there is that you can very, very easily just draw a line around anything you see on the web and save it in a virtual "box.EHere's a link to a very good video explaining how to use it.

Adult Ed Learning Programs Online

Annotating Programs for Online Notetaking and Sharing

TrackStar
Collect websites, enter them into TrackStar, add annotations for your students, and you have an interactive, online lesson called a Track. Create your own Track or use one of the hundreds of thousands already made by other educators. Search the database by subject, grade, or theme and standard for a quick and easy activity.
---

AppsWave.com
One of the best Collaboration programs available. Test it out here!

Activities for ESL Students from Kelly BrothersEITESLJ Site in Japan
Bilingual Quizzes for over 40 Languages

A-Z Teaching Techniques for ESL/EFL Teachers
(from The Internet TESL Journal)

Audio Text-to-Speech FREE Plug-In

Academic texts using AWL word list
Use Online or buy the book. Focus on Academic Vocabulary, Pearson Education, by Norbert & Diane Schmitt (2005)

Learn Out Loud
LearnOutLoud.com offers many speeches and books with FREE Audio and/or Video.

Answers.com Online Encyclopedia
History, Cultural Literacy, Fine Arts, etc
---
ACQUISITION OF VOCABULARY: SLVA RESEARCH

Mother of all SLVA Bibliographies
by William J. Rapaport

Vokabel
Lots of vocab quizzes on different topics in English, French, German and Spanish. Choose an existing quiz or create your own.

SLVA / VARGA
Second Language Vocabulary Acquistition Research. See the Vocabulary Acquisition Research Group Archive (VARGA) at the Univerity of Wales Swansea.

Camsoft Partners
An excellent collection of websites focusing on vocabulary acquisition.

Vocabulary Acquisition Reading References
collected by Tom Cobb

Vocabulary learning links and articles
(from Mark's ESL World)

Vocabulary Acquisition Overview (Andy Johnson's)

Automaticity Check (From Cobb's LexTutor)
Use this online tool to test automaticity of word recognition, with or without priming.
Reaction Time Instrument Builder (v.1.3)

ADELEX
A European Course for Assessing and Developing Lexical Competence on the Internet

Extensive Reading
NEW SITE FOR EXTENSIVE READING HEADQUARTERS! Extensive Searchable Research Reference List with Abstracts.

Alpha Dictionary
AlphaDictionary.com offers access to 992 Online English Dictionaries at once! Plus 24 Other Language Dictionaries for possible translations.

Asian EFL Journal Online

AuthorStream.com
Program for sharing PowerPoint and Video Podcasts with others online.
Sample shows J.P. Loucky's Recommended "Roadmap to Successful Online SLVA Using CALL & Computerized Dictionaries to Maximize Vocabulary &Language Learning.E

AnalogX.com
Great screen capture program.

Autonomy and Self-Access.
Blin, F. (2005). CALL and the development of learner autonomy - an activity theoretical study. Unpublished
doctoral thesis, Institute of Educational Technology, The Open University, UK. Retrieved June 10th, 2007.
---
VOCABULARY RESEARCHERS' PERSONAL HOMEPAGES

Yavuz Akbulut's

Batia Laufer's

George Chinnery's TESOL and Vocabulary Links
and Reference Lists.

Paul Meara's
Center for Applied Language Studies: Vocabulary Acquisition Research Group

Paul Nation's Bibliography

Learning Vocabulary in Another Language
By ISP Nation (lst 25 pages).

Waring's Second Language Vocabulary Resource Pages
Vocabulary website listing 32,000 articles for related research.

EPS Books
ETS Vocabulary Learning Articles and Materials

Akbulut
Akbulut, Y. (2007). Variables predicting foreign language reading comprehension and vocabulary acquisition in a linear hypermedia environment. The Turkish Online Journal of Educational Technology, 6 (1), 53-60.
Akbulut, Y. (2007). Effects of multimedia annotations on incidental vocabulary learning and reading comprehension of advanced learners of English as a foreign language. Instructional Science.

John Paul Loucky's
Vocabulary Research Articles and Book List
(Order any of these from the Products Page)
---
AVAILABLE TEXTS
Order any for $20 including free shipping via our Order Form:
Famous Leaders Who Influenced Japan's Internationalization (J.P. Loucky, 1994).
335 A-4 page College Reader for upper intermediate and advanced English students.
Biographies of important people who contributed to Japan's development.
Cross-Cultural Comparisons between Japan and America (Perrin, 1998. English or Japanese).
Listening to Love Songs with Cloze Exercises (J.P. Loucky, 2001).
Listening to Lovely Childrens' Songs and Lullabies (J.P. Loucky, 2000).
Listening for the Reasons for the Seasons (J.P. Loucky, 2002)
---
ALPHABETICALLY LISTED LANGUAGE STUDY AND TEACHING SITES

Alphabets and Writing Systems World-wide.

Alphabetically-Organized Study Links
listed by language (over 140!). Yamada Language Center, University of Oregon.

218 Language Links
alphabetically listed.

Language Study Links for 75 Languages
all listed Alphabetically.

72 Online Dictionaries
listed by language alphabetically.

Well-organized Language Study Links
and all major Search Engines as well.

Academic English Study Skills
from Doshisha University, JAPAN. Kitaos' English Library and Study Skills Practice Notes.

Association for Learning Technology, UK
ALT is a professional and scholarly association which seeks to bring together all those with an interest in the use of learning technology. With over 200 organisations and over 500 individuals in membership they exist to: promote good practice in the use of learning technology in education and industry; represent the members in areas of policy; facilitate collaboration between practitioners, researchers, and policy makers.
---
ACTIVITIES

A-Z Activities for Early Readers
These are Activities by the Letter Building Blocks to Reading. Extracted from "Building Blocks to Reading, Activities by the Letter, Book I. All material copyrighted 1995 Karen M. Potter.
---
ASIAN LANGUAGE RESOURCES

Asian Language Bible-related resource store
Bamboo is an online Christian Bookstore with this stated aim:
We specialise in Asian language Christian resources and offer products in Burmese, simplified and traditional Chinese, Japanese, Khmer/Cambodian, Korean, Laotian, Thai, Vietnamese, Indonesian and Tagalog, as well as stocking a big range of English language products. Check out our bibles, books, tracts, gifts, cards, CDs, DVDs, etc.

Chinese and Asian Language Bible-related resource store
---
MULTI-LINGUAL TRANSLATION TOOLS

Arabic–English–Chinese Translations Online
Lingo24 offers a free online Arabic-English and English-Arabic dictionary.
Lingo24's ContexTrans service is a free tool that combines both Machine Translation (MT) and Translation Memory (TM) technologies. It allows you to search for real-world translations of a word or phrase between two languages. These results are derived from high-quality human translations and allow you to see the context in which the words are used in a foreign language, helping you to choose the most appropriate translation.
Lingo's system currently supports English to Arabic, Arabic to English, English to Chinese, and Chinese to English translations. More language combinations will be available in the future.

Lingo24
A collection of free online Machine Translation (MT) tools.

Translation Services for many languages
---
ENGLISH E-LEARNING ACTIVITIES

General information on websites for learning English

ESL activities & problems

Dave's ESL cafe, various kinds of activities

Activities for fun-loving learners

More Activities for fun-loving learners

Even MORE Activities for fun-loving learners!

Activities for students
---
Top 10 Sites for Creating Digital Art
"Digital art is an umbrella term for a range of artistic works and practices that utilize digital technology. Since the 1970s various names have been used to describe what is now called digital art including computer art and multimedia art but digital art is itself placed under the larger umbrella term new media art. (Wikipedia)". Technology can be integrated into art, and these are dkapuler's top 10 favorite sites for that.

1. Art Pad
A great painting site that records a picture while it's created to create a time lapse effect.

2. Slimber
An excellent site for drawing & painting w/ some beautiful examples.

3. Bomomo
A fun site where users can create unique pictures w/ different shaped templates (ie, Pixie).

4. Doink
A great site for creating animated art w/ a web 2.0 flare.

5. Odosketch
A wonderful site for creating beautiful sketches w/ colored pencils.

6. Sketchpad
Create excellent painting/drawing w/ this cool site. Lots of different styles, effects, gradients for users to choose.

7. Sumo Paint
One of the most popular digital art creators on the web, very similar to Photoshop.

8. Live Brush
A wonderful free application that lets users create some beautiful looking designs. A great gallery of examples to view too.

9. Crayola Digi-Color
An excellent site for kids that is very user friendly for creating digital art.

10. Voice Draw
A very unique site that lets users create art w/ their voice/sound.

Gloria Loucky's Art Portfolio

Artsearch
Huge collection of art, art museums / galleries and artists.

How Great Thou Art
Excellent Art courses and materials for children in any learning environment.

MastersEArt Gallery
Enjoy viewing and discussing some great pictures by master artists.

Illustration areas important in Graphic Arts

A lot.com new toolbar
delivers A LOT, including:
Search: One-click access to Web Searches powered by Google.
Videos Search: Search the world's largest and most advanced Video Search Engine.
Video Vault: The best Internet Video Sites right at your fingertips.
Live Weather: Get current Weather Conditions and Forecasts for your local area.
Top Stories: Get the latest top News Stories directly from the toolbar.
Camfrog: One-click access to free Webcam Chat Rooms. See and hear people live!
Games: Quick access to the best Online Game Sites all in one place.
---
ASKING FOR ADVICE

Ask an Expert

Ehow
Find out things you've always wanted to know here! This activity may be called "It's a Mystery to meEor "Little Known Facts AboutE

Teenadvice

Teentalk

Lucie

Teen Advice
Ask for advice about typical teenage problems. Advanced and sensitive issues, so best to check these out first teachers!
---
ATLASES ONLINE

Atlases
World's largest online marketplace for books. Huge travel selection!

Free Map Searches
for various countries. Great for geography and travel!

Free Maps
to discuss traveling in 262 countries!

Map Nation
Online maps, free maps, driving directions, & map your trip in the U.S.

US Local Maps
Maps & driving directions. Provides interactive maps and driving directions for U.S. cities.

Instant Aerial Photos
Browse aerial and satellite photos with online image viewer.

National Geographic
Maps & geography: online maps, games, information... Find almost any place with online National Geographic atlases, order maps, get information about countries & states, print maps, play geography games.

Microimages
Online atlases. publish interactive atlases on your website.

Online Atlases and Maps

Internet Oracle Online Atlases
US & World Atlases. 3-D World Atlas FREE Software Just Pay Shipping. SMARTpages, "Maps, Directions, City Pages, Yellow Pages." Questia Online Library.

The Atlas of Canada - Other Online Atlases
Explore other online atlases in Canada and around the world.
---
AUTHORS

Short Stories
AuthorsEBibliography included.

Classic Short Stories
Collection for pleasure reading.
---
AUTHORING TOOLS

Task Magic
TaskMagic is a suite of authoring tools for creating interactive lesson content. It is a really quick and easy way for teachers to create a whole range of presentation and practice activities in just a few minutes. It's currently used by a large number of secondary school Modern Languages departments in the UK as it can be used to teach and practise any roman-script language at any level. So there's no need to buy separate software packages for French, German, Spanish, Italian etc. for KS2, 3, 4, or 5 - TaskMagic can be used for all of these.
---
ART/CLIP ART FREE

Clip Art Collections
The Grosse Pointe Public Schools (MI) offers this site with links to clip art collections, a content-specific clip art list, and links to seasonal clip art.

Free Clip Art from Microsoft

The Best Online Sources For Images

Educational Technology Clearinghouse
of 40,000 Images.

Babbel
One of the few really effective vocabulary building websites that I've seen on the web. It's actually a social network and can help you to make friends for language exchange etc, but the core of the site is its interactive multimedia vocabulary building exercises.

Wordia.com
A user-created Video-Wiki-Dictionary.

Bubblr
A tool to create comic strips from Flickr.com photos.

Images
Images can be a really powerful teaching tool, so tools like Bubbblr which enable us to combine images into sequences with text to use either offline or online can be really valuable.

Second Life
Creating movies in Second Life.
---
PHOTO FUN WITH YOUR STUDENTS

Photo-Biography Creation Site
Creating a fictional biography seems to have been a theme the last couple of weeks, so here's another website that you can use to create a fictional biography using images. Great prompt for creative writing or speaking activities.

Photo Fun with Your Students
Ideas for creating personalized flashcards for EFL ESL activities. That posting used a site called FaceinHole at , which had some nice images that you could upload you or your student's picture to.

Tinyurl.com/642we9
For learning about Global issues in classrooms, there are lots of resources being developed. You can get students involved in playing text-based online simulations that help them to understand how nations are managed.

Tinyurl.com video clips
There is a huge selection of video clips available which can be used as prompts to discussion, listening or writing activities.

Tinyurl.com games
There are also more interactive serious games like this one which helps students to understand the challenges involved in overcoming poverty in a small Nepalese village.

Tinyurl.com film scripts
If you want something less serious and your students are interested in films, then try out this activity which uses TV and film scripts to help students improve their reading speeds.

Tinyurl.com audio
Here you can also find out how students can access the audio for thousands of movies to help them develop their listening skills.

Tinyurl.com word games
If you are more interested in fun you can find a collection of really nicely designed word games here:

Tinyurl.com singing telegrams
Or perhaps you prefer some real communication and get your students to send each other singing telegrams

Tinyurl.com world languages assessment
Last but not least, there is a review of the World languages Assessment website and links to lots of useful information about testing and assessment.

Tinyurl.com blogs
Over the last two weeks I've also added an email subscription to each blog, so if you would like to receive copies of each posting as soon as it goes live on the site them please do subscribe. As ever, your feedback and comments on the blogs are very welcome so please feel free to have your say about any of these postings.

Tinyurl.com fake movie
Viral Video site that enable us to use a simple photograph to generate a fake celebrity movie. This is great fun and can be exploited in a variety of ways.

Learning technology teacher development blogs
Tips, resources and teaching materials for EFL and ESL teachers
Nik Peachey Learning Technology Consultant, Writer, Trainer

Quickshout.blogspot.com

Daily-English-activities.blogspot.com

Want a quick chat?
Chat over IM with group members.
---
ART MUSEUMS ONLINE

Art Museum Links (many!)

Kimbell Art Museum, Ft. Worth, Texas

Norm Rockwell Museum

Georgia Art

Japanese Art
---
ANIMATION TOOLS

Animation Tool
from http://nikpeachey.blogspot.com/2008/10/text-to-speech-movies-for-efl-esl.html
A wonderful tool that combines the power of animation with text to speech technology and enable us to create simple animated movies with our students. These are great for contextualizing language and helping our students to practice dialogues. They are also very simple to create.

Animation Tools needing Supervision

Comics and Online Animation
Comic Master is is a site the excellent blog, iLearn Technology. This site is similar to most online comic creators such as Pixton or Toon Doo. As w/ other similar sites, CM has a nice drag-n-drop user interface w/ lots of items to choose from.

Bitstrips
A comic creation site that is one of the better ones to come around in a long time. Like most similar sites a user selects a character, background, object, and then provides the text, but what separates this from others is there is an educational portal similar to Toon Doo Spaces. This is great for teachers as there are built in filtering, content approval before posting, and private hosting. Check out Bitstrips for creating comics in the classroom!

"What Makes Me" Is A Neat Site
At What Makes Me, you can create a "cube" using photos, video, and audio (you can easily grab them off the web our upload your own). Your creation is supposed to be a representation of "you." It's from the Australia Council for the Arts and, theoretically, it's supposed to just be for Australians. But they invite people to make as many cubes as they want, so won't be too concerned if non-Aussies contribute. No registration is required, other than your email to save your cube.

Anecdotal Story writing or Autobiographical Incident Essay
Explaining how to write one. Two teachers developed a simple "cloze" (fill-in-the-blank) passage that described the actual writing process.
Animal Lessons

Awesome Creation Song: "How Could I Say I Believe?"

Amazing BBC Website!
"Life Is" is just an amazing site from the BBC. It's part of television series on "the extraordinary things animals and plants do."

Abortion Issue You Tube Videos

Abortion Survivors: Women who survived Abortion but whose children did not share their pain.

Arabia E-Learning Conference 2011 (Free Downloads!)

America's Christian Founders

Twelve Years of Lesson Plans About the Animal Kingdom
From The New York Times Learning Network.

Answer Garden
Answer Garden is an excellent new tool for a person's website. AG is a gadget that can be embedded into a site (similar to a poll) that people can use to answer questions that you create. These answers then get displayed in a visual brainstorming/tag cloud view with the top choices standing out as more bold and bigger font (think Wordle). Answer Garden can be used by teachers to get feedback from students, bloggers for self analysis, etc.

Apologetic Answers to Ultimate Questions
Japanese counterpart at: http://www.christiananswers.net/japanese/
---
OTHER

Alphalary vocabulary lists
Request one of 66 thematic topics. We have over 66 Alphalary word lists for use on a "word wallEor to help make thematic dictionaries. Speech therapists and ESL- LEP EELL teachers love these lists!

Association for Learning Technology, UK.
ALT is a professional and scholarly association which seeks to bring together all those with an interest in the use of learning technology. With over 200 organisations and over 500 individuals in membership they exist to promote good practice in the use of learning technology in education and industry; represent the members in areas of policy; facilitate collaboration between practitioners, researchers, and policy makers.

Academic Word List by Groups

American English Teaching Materials
(from Nolls in China)

Artificial Intelligence Projects

Ax's pages
Ariel Sorensen's English Courses at Kitakyushu University, Japan.

Lingo24

Lingo24 free online Arabic-English and English-Arabic dictionary

Lingo24 Arabic language paraphrasing tool

Lingo24 English language paraphrasing tool

Lingo24 collection of free online machine translation tools

Articulate
The global leader in rapid E-Learning program development.

E-ffective E-Learning at its best
Aframe Online Learning and Compliance Solutions. Online and blended learning development and delivery specialists for Corporate and vocational training programs; Compliance programs; Product knowledge training and assessments. Aframe is a leading Australian e-Learning company that provides innovative outsourced online learning, assessment and compliance management solutions. Aframe released its first e-Learning product in 1998 and has developed the e-Learning platform, Aframe OLAMS (Online Learning & Assessment Management System).

ATutor

Arabic language paraphrasing tool.

Adam Kilgarriff's Homepage
on Lexicography and Computational Linguistics

The Association for Computational Linguistics Hompage

Apple TV
Apple.com describes its new Apple TV. What's that?
What's on Apple TV? Whatever you want!
Apple TV puts your iTunes library Emovies, TV shows, music, and podcasts Eplus movie trailers from Apple.com on your TV. And your digital photos from iPhoto on a Mac or Adobe Photoshop Elements or Adobe Album on a Windows PC appear in high definition, so you can put on a stunning big-screen slideshow. Like all people since Adam and Eve, people keep biting.

Alphabetized and Categorized Bibliography of Vocabulary Studies

Academic Word List
Averil Coxhead's 570.

Australia Network
This site has an excellent "Learn English" section. They have 4 different sections offering various video based learning activities including scripts, useful expressions and quizzes. The videos are all typically graded for learners of English.

Gutenberg Project
There are 20,000 free books in the Project Gutenberg Online Book Catalog. Project Gutenberg is the oldest producer of free ebooks on the Internet. Our collection was produced by thousands of volunteers.

Audio Books: Both Human- and Computer-Read

Audio Books: Human-Read

Audio Books: Computer-Read

Aim.com
Aim.com gives users free AIM WeeMee Mascot.

AIM Share
Share a Web site or broadcast a message to folks on your Buddy List.

AIM Pages
It's your life on a page. Create a profile today and make friends. Or just ignore everyone, whatever.
AIM 6.1 Features: Grouped IMs, Buddy Icons & Offline IMs

AIM BuddyBlog
New products and running commentaries abound. The AIM team loves to blog.

Unlimited AIM Phoneline
Make calls from AIM or your phone to 35+ countries for one low price.

Amazon's Book Surge
For low-cost publishing: 'print-on-demand' book runs.

ADELEX ANALYSER (ADA)
ADELEX TEXT ANALYSER tool is part of the research carried out by the members of the ADELEX team at the University of Granada. It enables the user to analyze the lexical difficulty of written texts in English on the basis of information contained in a 7,000-word frequency list drawn from the British National Corpus, Bank of English and Longman Corpus Network databases. Its two versions (English and Spanish) attempt to provide a more accurate and updated way of analysing texts, by using frequency bands of up to 7,000 words. Once students learn how to use all of these, they should be over the "Minimum Threshold LevelEneeded for fluent, independent reading. The analysis divides this list into 7 bands:
Band 1: from word no. 1 to word no. 1,000
Band 2: from word no. 1,001 to word no. 2,000
Band 3: from word no. 2,001 to word no. 3,000
Band 4: from word no. 3,001 to word no. 4,000
Band 5: from word no. 4,001 to word no. 5,000
Band 6: from word no. 5,001 to word no. 6,000
Band 7: from word no. 6,001 to word no. 7,000

Alive Tek
AliveTek Assessments for E-Learning Website Development, Animation, Audio/Video Samples, Narrated Presentations and Interactive Graphics.

Alphabetical Index of Scientists
(of the Christian Faith)

African Christian Biography Dictionary

TheBroth.com
A world of live art where users create artworks together with others from all around the world! Get recognition for your artworks in the gallery!

Albanian Translation
Quality translation services in Albania

Art Photos

Audiobooks Free!
LibriVox provides free audiobooks from the public domain with several options for listening.

English Tests
Free English Tests for ESL/EFL, TOEFL, TOEIC, SAT, GRE, GMAT and ASVAB (Armed Services Vocational Aptitude Battery) Tests. At English-test.net I you can answer free interactive questions to increase your vocabulary for any of these tests!

Atenex
Authoring tool for Spanish sites in Linux or Windows. Useful to manage many materials and units.

Albanian Translation
Quality translation services in Albania

Cleverlearn
English Learning Re-Invented Online

English Learning Software Downloads

Anatomy taught by Winking Skull.com
Navigate through each region of the body by clicking on the list.

AudioPortfolios.com
Create or listen to English Audio lesson files.

AniBoom.com Animation Generator
Allows you to make Animated gifts or cartoons.

AFRICA, Compare Countries of Using Visual Geography.com

North America
Compare Countries of Using Visual Geography.com

South America
Compare Countries of Using Visual Geography.com

ASIA
Compare Countries of Using Visual Geography.com

Visual Geography
A nice site available in 5 European languages with images, information, and quizzes about 85 countries around the world. The text is accessible to Intermediate English Language Learners, and the images are obviously good for students of all levels. Good quizzes about each country, and a neat feature called "Compare,Eby which you can pick any two countries and easily compare their demographic data with the click of the mouse. Visualgeography.com lets you explore the world through images, flags, money, language, maps and other information.

Audio Stories Collection
from Awesome Stories.com

Awesome Stories Complete A-Z List

Voices.com
Voices.com is the online marketplace where businesses connect with voice actors and professional voice-over talents. Radio and television stations, advertising agencies, marketing professionals, casting directors and voice talent agencies rely on Voices.com to easily search for and hire narrators and professional voice-over talents by using their award-winning web service.

Action Research
A site from Graduate School of Education at George Mason University (Virginia, USA) entirely devoted to action research.

Aviary
Aviary is a set of online editing tools including an an audio editor, image editor, a color editor and a screen capture tool.
---
ANNOTATION PROGRAMS

Layers
Layers is a new site that lets you annotate any webpage. Two especially nice features it has are (1) you can add photos and videos to your annotation by just including the url address and (2) you can see how other people who are also registered at Layers have annotated the same page. Other programs that can easily annotate webpages are listed on Best Applications For Annotating Websites. Many are ideal for students to demonstrate reading strategies on the Web, just as they use real Post-Its in the classroom.

Crocodoc
Crocodoc is a new application that lets you upload any document - Word, PowerPoint or PDF - from your computer or the Web, and then it can be "marked-up" with a virtual highlighter or sticky notes. No registration is necessary. You're given a unique url for the document, and then the people you share it with can annotate it. It's a very simple service to use. See more at Best Applications For Annotating Websites.

Layerpad For Webpage Annotation
Layerpad is the newest addition to Best Applications For Annotating Websites list. After registration, you can make comments on the site, and see comments others have made. In that way, it's similar to Blerp. However, Layerpad doesn't let you position the comments in different places around the page, which limits its effectiveness as a way for students to show that they're using reading strategies.
www.Abax.net
Abax.net: Fiction in Action
Free downloadable Whodunit Reading text in PDF at: http://www.abax.net/storage/downloads/Whodunitcc.pdf

Argumentation and Critical Thinking Lesson Plans

Architectural Feats and Unusual Buildings is a slideshow of seventeen unusual buildings around the world. See more at The Best Images Of Weird, Cool & Neat-Looking Buildings (& Ways To Design Your Own).

Archive.org
Archives many old or dead links. If you are looking for one, try The Internet Archive, "a digital library of Internet sites and other cultural artifacts in digital form. Like a paper library, they provide free access to researchers, historians, scholars, and the general public". Copy and paste the URL in the Wayback Machine and click on 'Take Me Back'.

America Interactives
Biography of America is a very ambitious video and text U.S. History presentation. Much of it isn't accessible to English Language Learners. However, this link added to Ferlazzo's U.S. History page will lead you to a series of links to short interactive Flash exercises that should be accessible to Intermediate English Language Learners. They're each images that have a number of "hot spots" you can click on for further information. Each era in U.S. History has 1 of them.

Animal Adventure Movie: Amazing four minute video showing Animals' Hunger. Fear. Love. Absolutely, positively lovely. Great for having students learn to write Story Narrations in TL.

Advanced Learning Institute.com
The AdvancedLearningInstitute.com helps meet language learning and educational needs. Prepare for exams, get term papers, register for short term and long term courses online in various universities.
Web 2.0 Tool Rubrics

ASSESSMENT of Student Online Projects Guidelines/Web 2.0 Tool Rubrics
These are Kathy Schrockfs Guidelines for assessing student projects completed using Web 2.0 tools.

ART: Akiane Kramarikfs Inspiring Artwork (Child Prodigy)

"Appetizing Architecture"
"Appetizing Architecture" is a series of images showing buildings shaped like food. Buildings That Look Like Food, and The Best Images Of Weird, Cool & Neat-Looking Buildings (& Ways To Design Your Own) list are also cool.

TESOL Arabia Online Conference
---

Lifesaving Scientists - A to Z

Lifesaving Scientists - A to Z Quick Links

THE ANSWER PAD
The Answer Pad is a great free iPad solution for assessing student data. This is done by registering and interacting w/ a free iPad app that allows teachers to create student accounts and answer sheets, and then assess student data. [Written by dkapuler on Dec 12, 2012]

ARK on Ararat or in Iran?
Apollo 15 astronaut James Irwin led multiple expeditions to Mt.Ararat in search of Noah's ark. If found, it would likely be the greatest archaeological discovery in history. Tragically, Irwin died of a sudden heart attack in 1991, with his quest to find the ark unfulfilled. Now his widow, Mary Irwin, is convinced she and her husband were searching on the wrong mountain. In her new book, "The Unsolved Mystery of Noah's Ark" (West Bow Press), she reveals her findings after 20 years of painstaking research following her husband's passing.
---

AZXianLinks.wix.com - Directory of most useful Christian Links.

AMA W/ FARB NIVI, FOUNDER OF GROCKIT, LEARNIST, & SOCRATIC LABS

"Amazon Effect"
A Beginning List Of The Best Geography Sites For Learning About Africa
We're going to start studying Africa in a few weeks in my Geography class, so here's the latest installment in my Geography-related "Best" series. I need to add a lot more here, and am very open to suggestions. You can see all of them at The Best Geography Sites For Beginning & Intermediate English Language Learners.

Northern African Puzzle Map

African Puzzle Map

Southern Africa Puzzle Map

African Geography Games

African Countries - Beginning Level

African Map Game Level One

African Map Game Level Two

Africa Conversation

Ways Of Knowing Trail

Uganda Game

The Impossible Task

African Creation Story

Rwanda Game

Africa Facts

Africa's AIDS Crisis

Life for African kids
---
| | | | |
| --- | --- | --- | --- |
| | | Join a live video chat now! | |
---
Free Demo Lessons
http://CALL4ALLUS.en101.com



Internet-based, interactive audio-visual English learning center with instructions in 21 languages.
Free Demo and great online Business Opportunity!

Click on a flag to choose a language.



























---
online electronic translation tools
---



ESL Lounge
Free ESL Lesson Materials for teachers. Grammar, worksheets, song lyrics, board games, pronunciation and more. All free and printable.
---



Online Conference/Classroom
Nellies English Projects is an educational website for students and teachers whose aim is to motivate students for lifelong learning. It provides resources for teachers on how to integrate technology into the classroom by means of project based and experiential learning using WebQuests. The site provides many educational resources, articles, lesson plans, evaluation rubrics, reading practice and collaborative writing ideas.
---

Powered by IP2Location.com

IP2Phrase
IP2Phrase allows you to insert dynamic customizable welcome messages to your web page with geographical information.You can either design your own phrase or use one of their defaults.



---



FoxLingo – The Ultimate Language Tool!
(works only with Firefox)


Web Page Translation, Translated Search, Auto Translation, Text Translation, Language Resources, Learning Languages, etc.

Main Features
Page Translation - Translates full web pages (over 1,000 different language pairs)
Translated Search - Searches foreign pages using terms written in your language
Auto Translation - Automatically translates websites by recognizing their domain
Text Translation - Translates text entered in the search box or selected on any web page
Language Resources - Over 90 language services (encyclopedias, text-to-speech, etc.)
Ixquick - Metasearch engine with unique features, language search and complete privacy
Learning Languages - Over 100 links to language learning sites for a variety of languages
Freeware - FoxLingo is completely free and contains no adware or spyware
Complete Privacy - FoxLingo does not take any information from its users
Supports 45 languages & over 1,000 different language pairs

Afrikaans, Arabic, Aranese, Basque, Bulgarian, Catalan, Chinese Simplified, Chinese Traditional, Croatian, Czech, Danish, Dutch, English, Esperanto, Filipino, Finnish, French, Galician, German, Greek, Hebrew, Hungarian, Icelandic, Indonesian, Italian, Japanese, Korean, Latin, Malay, Norwegian, Occitan, Persian, Polish, Portuguese, Portuguese Brazilian, Romanian, Russian, Serbian, Slovenian, Spanish, Spanish Latin American, Swedish, Turkish, Ukrainian, Welsh

Uses 35 free online web page translator services

Worldlingo.com, Tranexp.com, Google.com, Abacho.co.uk, Altavista.com, Apertium.org, Eigo-navi.com, Elmundo.es, Excite.co.jp, Freetranslation.com, Gencat.cat, Gts-translation.com, Ibm.com, Imtranslator.com, Internostrum.com, Interpret.co.za, Linguamatix.com, Lingro.com/, Lingvo.org, Nazgol.co.il, Nifty.amikai.com Ocn.ne.jp, Oesi.cervantes.es, Online-Translator.com, Opentrad.org, Sli.uvigo.es, Solvingmaze.com, Toggletext.com, Tr.voila.fr, Translatica.pwn.pl, Translator.live.com, Translendium.es, Vil-net.dyndns.org Yahoo.com, 220.194.61.120